Over 45 years in the industry
For over 46 years, KR has developed and produced a wide range of quality beds and other welfare technologies for hospitals, psychiatry, disability institutions, nursing homes, home care and private homes for over 46 years and as one of the few remaining Danish bedding manufacturers.
Our driving force is to make everyday life easier and more worthwhile for others – whether it's citizens, caregivers, relatives, visitation, technicians, porters, bed managers, service staff or depot people.
We have the entire production combined under one roof in Hadsten in central Denmark, from which we develop and produce over 3,000 beds annually to primarily the Danish and Norwegian healthcare sectors.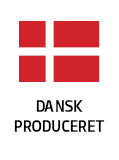 "Our strength lies in a heartfelt desire to make everyday life easier and more worthy to others, whether it is the end user, the professional staff, the relatives, the cleaning, the technicians or the depot people we are talking about."
Liv-Janne Hansen, Managing Director of KR
Questions?
KR would not be the same without all our dedicated employees. We are all specialists in each of our fields and together we develop and produce the world's best hospital and nursing homes.